Reference standards
The product is manufactured according to the standards of CB5023 and Jb8734 or IEC ,BS ,DIN and ICEA upon request.
Application
The products are suitable for power installation fixed wiring or flexible connection for el-electrical appliances with rated voltage up to and including 450/750V respectively.
Related Products:PVC Wire,PVC Power Cable.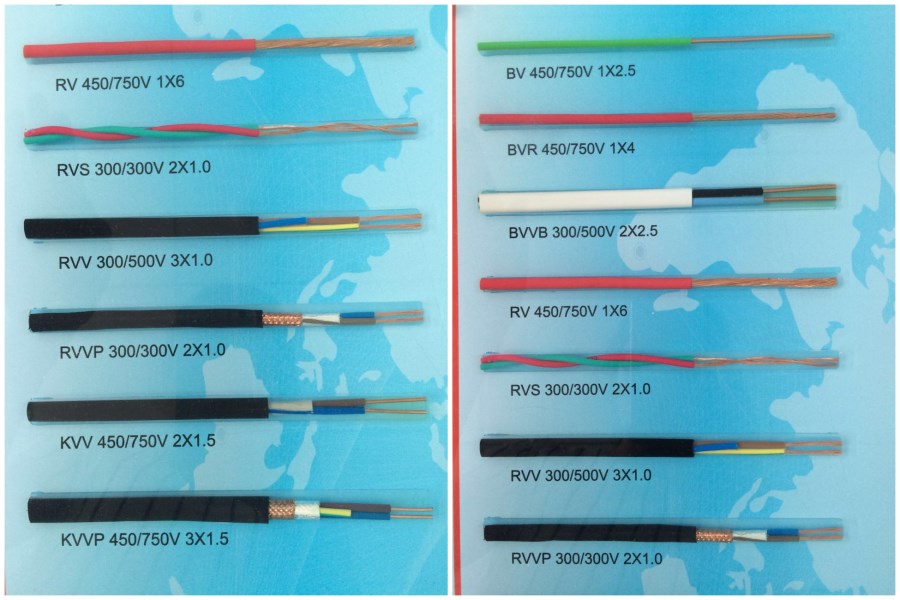 Operating Characteristics
Rated voltage Uo/U:450/750V\300/500Vand300/300V
Max. Permissible continuous operating temperature of the conductor:
227 IEC 07(BV-90)..........................90℃
227 IEC 08(RV-90)............................90℃
For other type.................................70℃
The ambient temperature under installation shall not bellow 10℃
The bending radius of cable :
D≤25mm..................................≥4D
D>25mm..................................≧6D
(D-Diameter of the cable)
Type and Name
TYPE

NAME

Rated voltage

No. Of core

Nominal cross-sectional area of conductor mm2

STANDARDS

60227 IEC 01(BV)/02(RV)

Single-core non-sheathed cable with solid/flexible conductor for general purposes

450/750

1

1.5~400/1.5~240

GB5023

IEC60227

60227 IEC 05(BV)/06(RV)

Single-core non-sheathed cable with solid/flexible conductor for internal wiring for a conductor temperature of 70℃

300/500

1

0.5~1

60227 IEC 07(BV-90)

/08(RV-90)

Single-core non-sheathed cable with solid/flexible conductor for internal wiring for a conductor temperature of 90℃

300/500

1

0.5~2.5

60227 IEC 10(BVV)

Light PVC sheathed cable

300/500

2,3,4,5

1.5~35

60227 IEC 42(RVB)

Flat non-sheathed flexible cord

300/500

2

0.5~0.75

60227 IEC 51(RVV)

Light PVC sheathed flexible cord

300/500

2,2

0.5~0.75

60227 IEC 53(RVV)

Ordinary PVC sheathed flexible cord

300/500

2,3~24

0.75~6

60227 IEC74(RVVYP)

Oil-proof PVC sheathed ,screened cable

300/500

2~60

0.5~2.5

60227 IEC 75(RVVY)

Oil-proof PVC sheathed ,non-screened Flexible Cable

300/500

2~60

0.5~2.5

BV

Copper conductor PVC insulated wire

300/500

1

0.75~1

JB8734

BLV

Aluminum conductor PVC insulated wire

450/750

1

2.5~630

BVR

Copper conductor PVC insulated flexible wire

450/750

1

2.5~240

BVV

Copper conductor PVC insulated and sheathed round cable

300/500

1

0.75~10

BLVV

Aluminum conductor PVC insulated and sheathed round cable

300/500

1

2.5~10

BVVB

Copper conductor PVC insulated and sheathed flat cable

300/500

2,3

0.75~10

BLVVB

Aluminum conductor PVC insulated and sheathed flat cable

300/500

2,3

2.5~10

RVS

Copper conductor PVC insulated twisted flexible cord for connection

300/300

2

0.5~0.75

RVP

Copper conductor PVC insulated flexible cord

300/300

1,2

0.08~6

RVP-90

Copper conductor PVC insulated twisted flexible cord for a conductor temperature of 90°

300/300

1,2

0.08~6

RVVP

Copper conductor PVC insulated and sheathed screened flexible cord

300/300

1~24

0.3~6